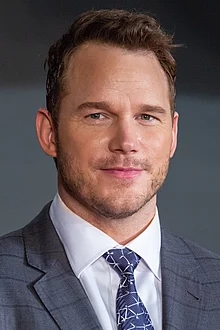 June 21, 1979

Virginia, Minnesota, U.S.

Male
Chris Pratt
Biography
Christopher Michael Pratt (born June 21, 1979[1]) is an American actor. He rose to prominence for his television roles, particularly as Andy Dwyer in the NBC sitcom Parks and Recreation (2009–2015), for which he received critical acclaim and was nominated for the Critics' Choice Television Award for Best Supporting Actor in a Comedy Series in 2013.
Pratt also starred earlier in his career as Bright Abbott in The WB drama series Everwood (2002–2006) and had roles in Wanted (2008), Jennifer's Body (2009), Moneyball (2011), The Five-Year Engagement (2012), Movie 43 (2013), Zero Dark Thirty (2013), Delivery Man (2013), and Her (2013). He went on to establish himself as a Hollywood leading man in 2014, with lead roles in Marvel Studios' Guardians of the Galaxy as Star-Lord and Warner Animation Group's The Lego Movie as Emmet Brickowski. Both films were critically and commercially successful, becoming the year's third and fifth highest-grossing films respectively in North America.[2] In 2015, Pratt portrayed Owen Grady in Jurassic World (2015), that year's second highest-grossing film, and reprised the role in the subsequent films Jurassic World: Fallen Kingdom (2018) and Jurassic World: Dominion (2022).
Pratt has also starred in The Magnificent Seven, Passengers (both 2016) and The Tomorrow War (2021). He also reprised his Marvel role in Guardians of the Galaxy Vol. 2 (2017), Avengers: Infinity War (2018) and Avengers: Endgame (2019), as well as the upcoming Thor: Love and Thunder (2022) and Guardians of the Galaxy Vol. 3 (2023). In 2023, he is set to voice Mario in Nintendo and Illumination's untitled Mario film. In 2015, Time magazine named him one of the 100 most influential people in the world.[3]